Troop 465 is helping a soldier...

05/08/13, see below
As you know, Clay Limbaugh is in the US Army and is currently serving his 4th tour in Kuwait (Clay, I am sorry if I got the number wrong.) Clay's son, Ben, is currently an active member of Troop 465, and their family has a major need in their lives. Susan, Clay's wife, discovered last Monday that her father has a very aggressive form of cancer that is in his thyroid, liver, and lymph nodes, and the prognosis is quite challenging at this point. We know that God is in complete control and can totally heal Susan's father, but we also know that the road they are facing will be long and tough. On top of all that, Clay will not be back home until September. Clay and Susan would like to finish out two rooms in their basement (bedroom and bathroom), and that will allow Susan's father to move in with them. That way she can spend more time with him and also give him any assistance he may need during this battle with cancer.
Troop 465 was able to line up Southeast Restoration, Inc. to do the work for them to get these two rooms finished, and they have graciously decided to provide all the labor free of charge to the Limbaugh family. They do this from time to time, and they like the opportunity to help someone who has decided to dedicate their life to protecting the freedom that we live under each and every day. All SE Restoration is asking is that Clay and Susan cover the cost of the materials needed to complete. Southeast Restoration has a very close relationship with a local supplier and is working with them to get a discounted rate on the supplies. This is where we come in. The cost of the supplies is $3000, and we would like to get the entire Troop 465 involved in raising the funds. So, here is how we can help Clay and his family. We are asking that each of you prayerfully consider giving any monies that you can to help them. It will be kept confidential as to who gives and to what amount. Furthermore, if your scout has any funds in their official Troop 465 scout account, they can designate any or all of those funds to this cause. You simply need to send me an email (jey@jeywillis.com) making that request. The only further communication will be to keep you all updated on the progress. Any extra funds collected will be given to them to complete any furnishing and/or decorating needs that may arise.
So, please make your checks payable to the Troop 465 Alumni Association and give to Jim Reed, Brad Parker, or Jey Willis. We will make sure they get to the right place. My first update is to let you know that we have already received or have committed an amount of $750…so we are off to a great start!
05/08/13 Update:
Good afternoon, and I pray this finds you all doing well. I wanted to update you all on our progress for the Limbaugh family. As I stated on Monday, we would like to collect $3000.00 for material, and as of 2:00PM today, Wednesday, we have collected to had pledged $1,795. THAT IS INCREDIBLE!!! We are well on our way to reaching our goal. Thank you so much!!!

Remember…scouts and parents…if your scouts have money in their Troop 465 Scout Account, they can designate any percentage all the way up to 100% of those funds to this cause. Just let me know at jey@jeywillis.com , and also please send any checks to the address below.

Jey Willis, Agent
State Farm Insurance
147 Reinhardt College Parkway, Ste. 2
Canton, GA 30114
Thank you for your prayers and consideration!
Jey Willis


Congratulations To Our Newest OA Members!


This weekend Matthew Willis, Andrew Gollner, David Lipscomb, and Mike Palmer completed their ordeal at Woodruff Scout Reservation and were inducted into Scouting's honor society, The Order of the Arrow.

Ben Limbaugh Awarded The American Legion School Award
The American Legion School Award is a special award as you can see by reading the criteria upon which the award is based. These criteria are qualities that make better citizens and leaders for the future:
Courage: Bravery in the face of opposition and danger; determination and force to do right without public applause and regardless of personal advantage. A quality of intellect.
Honor: Highly-developed moral character; moral excellence; strength and stability of character; high standards of conduct; devotion to duty; adherence to truth; keen sense of what is right; practice of clean speech and thoughts.
Leadership: Ability to lead and to accomplish through group action; ability to work in harmony and in unison with other leaders in accomplishing group results; desire and ability to fill the voids in the lives of others caused by timidity, illness and other handicaps.
Patriotism: An ideal of loyal Americanism, religious tolerance, righteous freedom and the willingness to defend our Flag against all enemies- foreign and domestic. Perhaps best defined in the American's Creed.
Scholarship: Attainments in school studies, quality of school work reflecting the fine traits of industry; perseverance efficiency and intelligence.
Service: Kindness; unselfishness; fellowship; protection of the weak; promotion of the interests and the welfare of associates, and, constructive aid for the upbuilding of schools and of community.
Congratulations to Ben and his family.


Medical Forms For Summer Camp
For all youth and adults attending summer camp, we MUST have an updated BSA Health and Medical Record. Please see the documents below, complete parts A, B and C of the medical forms.
Note that part C must be completed by a medical doctor. And we've learned that the medical clinic near Cracker Barrel in Canton on Riverstone Parkway has agreed to do physicals for youth members at no charge. However, you may elect to have your primary doctor complete these forms instead.
Please complete parts A, B and C prior to camp. And bring copies to me when they are complete for our summer camp files.
Please let me know if you have questions.
Thank you,
David Lipscomb
678-727-6167


Troop 465 Adult Work Day - May 4th
Each year we have a few weekends where we come together to work on projects at the Scout Hut that take some focused energy and a pool of volunteers. Our next work day is Saturday, May 4th. The boys are camping out all weekend and many of the adults will also be camping (you are encouraged to pitch a cot (or hammock/tent/nothing as you see fit)
This is a great time to get involved, meet other adults in the troop and contribute some time for the boys. You will likely have a whole lot of fun to boot.
The troop is very fortunate to have a dedicated group of Alumni, Program Staff, Committee and other volunteers who regularly pitch in throughout the year. They will likely be out in force during this weekend. Please consider adding yourself to that group on May 4th. It would be great to see some new faces.
Our list of projects at this point is included below. Depending on volunteers and supply availability we'll tackle this list, parts thereof or even more.
Please contact Christian Hall at 1christianhall@gmail.com or (678) 524-7636 if you will be able to help out on Saturday. Let us know early, please.
If you plan to camp, we'll also need that info for a food head count (and to know how many sets of dominoes to round up).
We will need to mow/trim/blow PRIOR to May 4, so if the weekend or portion of the week prior is better, that helps.
List at this point:
- install bathroom windows

- obtain/plant barrier shrubs between hut and campfire area

- build firewood shelter in campfire area

- clean roof/gutter systems for all structures

- patch/paint trim on hut

- install squirrel defenses to hut attic

- install frost-proof spigot at campfire
50th Anniversary Celebration
June 23, 2013
Troop 465 Scout Hut, 5742 East Cherokee Drive, Canton, GA 30115
Schedule of events:
11:00 am - 5:00 pm Open House
12:00 pm - 2:30 pm Reunion Luncheon ($5 per plate, $20 maximum per family)
3:00 pm - 3:45 pm Anniversary Recognition
Come and help us celebrate our 50 years of Scouting in the community
Please send Troop 465 Scouting photos and stories to webmaster@troop465.org
Contact John Ballard, ballardjw@comcast.net, 770-704-0343 for additional information and questions.
The purpose of the Boy Scouts of America, incorporated on February 8, 1910, and chartered by Congress in 1916, is to: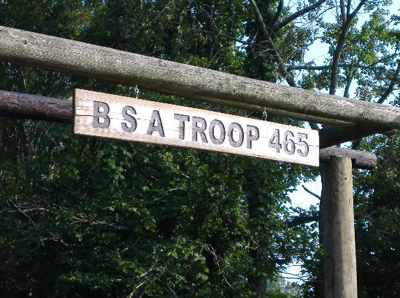 Provide an educational program for boys and young adults to build character.

Train in the responsibilities of participating citizenship.

Develop personal fitness.
How you can get involved:
JOIN as a youth member with Troop 465.

VOLUNTEER as a Troop Committee member or Assistant Scoutmaster

GIVE to 465 Alumni Inc. to support Troop 465's sponsor.
Serving youth for over 40 years, Troop 465 has had a proud heritage of molding boys into men according to the criteria listed above. Our Scoutmaster Emeritus, George Lingefelt, say's "If you want boys to become leaders, you have to train them and then let them lead", and thus began our "boy-lead troop" mind set. Mike Pellegrino is our current Scoutmaster and passes these skills on. In fact, Scoutmaster Pellegrino is only our 5th Scoutmaster since 1963.
Since 1996, the Troop Sponsor has been 465 Alumni, Inc., dba Friends of Troop 465, a non-profit organization specifically enacted to support Troop 465 both financially and philosophically. Troop 465 has a permanent Scout Hut, on over 3 acres, thanks to the generosity and foresight of 465 Alumni, Inc.
Troop 465 is unique because of the tremendous support from our members and their families. If you would like more information about joining troop 465, please click here.