Troop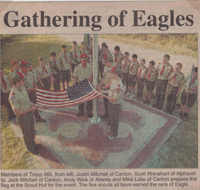 465 History Project
John Ballard, Nancy Wick, and Dan Warner, along with several others have completed this December 2018 edition of "A Brief History of Troop 465; the First Fifty-Five Years". It's 222 pages which covers 1963 -2018.
Please read and review this document and provide us with any suggestions, comments, corrections, or additions.
With many of you helping (both past and present Troop members and families) this can be a very rewarding project!!!
Please submit your items to Dan Warner at dfwarner2013@gmail.com, or call him at 678-488-5925, or stop by the Scout hut on Monday nights.
Thank you for your assistance,
Troop 465 History Committee