Josh Watkins Eagle Court Of Honor
Sunday, November 6th, 4:00 pm
First Baptist Church Of Holly Springs, https://goo.gl/maps/rHiYuqnP9dq
The parents of Josh Watkins and Troop 465 cordially invite you to the Eagle Scout Court of Honor for Josh Watkins.
Please join us at the First Baptist Church Of Holly Springs, 2632 Holly Springs Pkwy, Canton, GA 30115, on Sunday, Nov 6th at 4:00 pm.
Members of the Troop and other Scouting guests are requested to wear Scouting attire.
After the ceremony, a light dinner will be served.
Please respond to Suzanne Watkins at swatkins@mergate.com or 678-431-2712 by Oct 31st if you are planning to attend.


It's Time to Recharter!
It is time to re-charter our Troop with the Boy Scouts of America (BSA). As a part of this process, each Scout and leader must register for the coming year. The annual fee payment to Troop 465 is $96.00 for the first Scout, $84.00 for each additional Scout, and $48.00 for adult Leaders. The re-charter fee is comprised of;
National Dues - this fee is paid to the Boy Scouts of America and registers the Scout for the period from January through December 2017.
Boys' Life - this is the monthly magazine of the Boy Scouts of America. It's a great magazine that reinforces Scouting and the good family values that are part of our program.
Troop Fee - Troop 465 charges an annual Troop fee to cover the cost of running the Troop. The fee is set each year by the Troop Committee.
Please complete the 2017 Recharter Roster Information Form and turn it in along with a current BSA Annual Health and Medical Record Parts A & B, and your payment to Mr. McEuen or Mr. Canale at any Troop meeting.
The deadline for re-chartering is October 31st.
Questions? Contact Committee Chairman David Canale, cchair@troop465.org, 678-467-2421.
The purpose of the Boy Scouts of America, incorporated on February 8, 1910, and chartered by Congress in 1916, is to:
Provide an educational program for boys and young adults to build character.

Train in the responsibilities of participating citizenship.

Develop personal fitness.
How you can get involved:
JOIN as a youth member with Troop 465.

VOLUNTEER as a Troop Committee member or Assistant Scoutmaster

GIVE to 465 Alumni Inc. to support Troop 465's sponsor.
Serving youth for over 50 years, Troop 465 has had a proud heritage of molding boys into men according to the criteria listed above. Our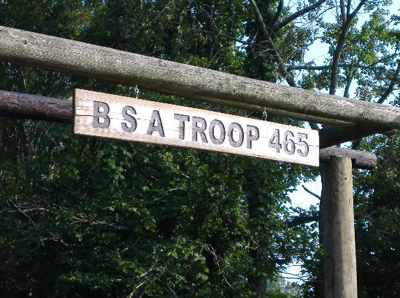 Scoutmaster Emeritus, George Lingefelt, say's "If you want boys to become leaders, you have to train them and then let them lead", and thus began our "boy-lead troop" mind set. Clay Limbaugh is our current Scoutmaster and passes these skills on. In fact, Scoutmaster Limbaugh is only our 7th Scoutmaster since 1963.
Since 1996, the Troop Sponsor has been 465 Alumni, Inc., dba Friends of Troop 465, a non-profit organization specifically enacted to support Troop 465 both financially and philosophically. Troop 465 has a permanent Scout Hut, on over 3 acres, thanks to the generosity and foresight of 465 Alumni, Inc.
Troop 465 is unique because of the tremendous support from our members and their families. If you would like more information about joining troop 465, please click here.