Vote On The Scout Hut Paint Colors
Mr. Wick, the CEO of our sponsoring institutionm, 465 Alumni Inc. has asked Mrs. Newman, co-chair of the Women's Auxiliary to get a vote on painting the Scout hut windows and front door. Please take a moment to review the Scout Hut Paint Color Options. Mrs. Newman will also post the color options at the Scout hut and each person can put their vote in a box.


The purpose of the Boy Scouts of America, incorporated on February 8, 1910, and chartered by Congress in 1916, is to:
Provide an educational program for boys and young adults to build character.

Train in the responsibilities of participating citizenship.

Develop personal fitness.
How you can get involved:
JOIN as a youth member with Troop 465.

VOLUNTEER as a Troop Committee member or Assistant Scoutmaster

GIVE to 465 Alumni Inc. to support Troop 465's sponsor.
Serving youth for over 50 years, Troop 465 has had a proud heritage of molding boys into men according to the criteria listed above. Our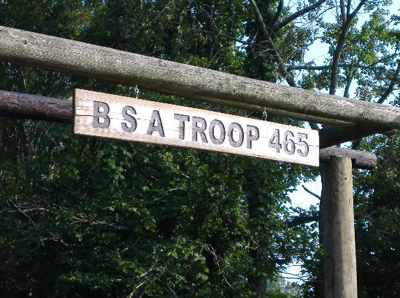 Scoutmaster Emeritus, George Lingefelt, say's "If you want boys to become leaders, you have to train them and then let them lead", and thus began our "boy-lead troop" mind set. Mike Lamanac is our current Scoutmaster and passes these skills on. In fact, Scoutmaster Lamanac is only our 6th Scoutmaster since 1963.
Since 1996, the Troop Sponsor has been 465 Alumni, Inc., dba Friends of Troop 465, a non-profit organization specifically enacted to support Troop 465 both financially and philosophically. Troop 465 has a permanent Scout Hut, on over 3 acres, thanks to the generosity and foresight of 465 Alumni, Inc.
Troop 465 is unique because of the tremendous support from our members and their families. If you would like more information about joining troop 465, please click here.